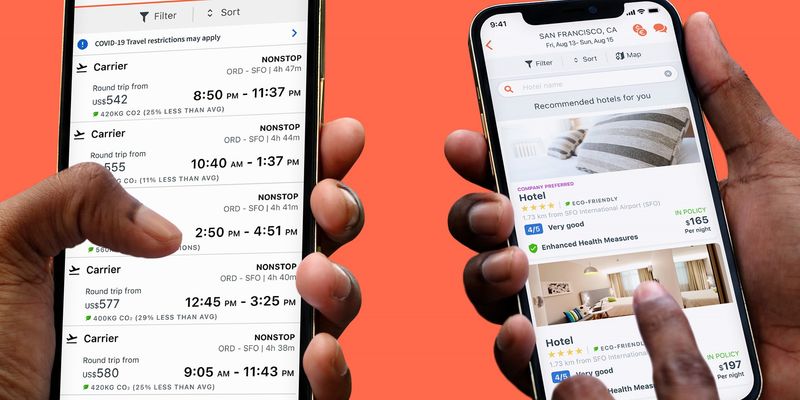 CWT and IATA Introduce Carbon Emissions Calculators
As part of CWT's $100 million investment in its myCWT travel management platform and sustainability offerings, the travel management company launched point-of-sale carbon footprint metrics that allow travelers to see the potential environmental impact of a trip.
Using emissions data from carbon intelligence platform Thrust Carbon – one of PhocusWire's 25 Hottest Startups for 2022 – myCWT's Mobile and Web Platform Carbon Footprint Indicators provide travelers with calculations of CO2 emissions at the time of booking to help them make more sustainable choices.
"If the traveler can't see their emissions at the point of sale, that simply won't be a factor in their decision-making," says Mark Corbett, Founder and Director of Thrust Carbon.
"We are rapidly moving towards a world where emissions data will be assessed alongside financial data. Together with our partners at CWT, we've taken a giant step to bring this to business travelers around the world.
Meanwhile, IATA has developed its own CO2 emissions calculator which quantifies the CO2 emissions per passenger for a specific flight.
Called the IATA Recommended Practices Calculation Methodology for Calculating CO2 Per Passenger, it provides travelers, business travel managers and travel agents with accurate information on flight CO2 emissions based on data verified airline operations.
Subscribe to our newsletter below
IATA believes that creating an accepted industry standard for calculating aviation carbon emissions will help the sector reach its goal of net zero by 2050.
An industry standard also helps the business segment meet emission reduction targets and reduces confusion over different carbon calculation methodologies, which can impact consumer confidence.
The methodology was developed with a working group made up of 20 major airlines; IATA also consulted and discussed the approach with industry stakeholders.
The methodology for calculating the Best Practices per Passenger CO2 is pending a vote by member airlines at the IATA Passenger Services Conference, which will be held at the end of March.
Once approved, the methodology will be available to all passengers, airlines and travel and tourism stakeholders.