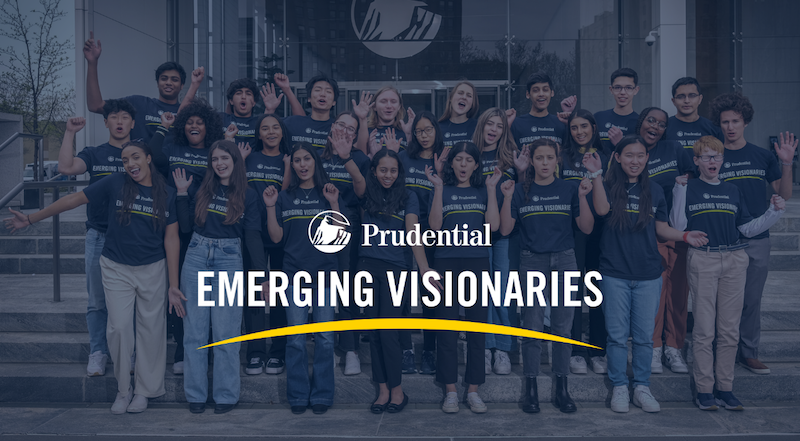 Prudential Emerging Visionaries Program 2023 for Changemakers in the USA (Win an all-expenses-paid trip + up to $15,000)
Deadline: November 3, 2022 (Early registration deadline: September 29, 2022)
Do you have a vision to transform your community – and the world – for the better? Where others see problems, do you see potential?
Applications are now open for the 2023 edition Prudential Emerging Visionaries, an exciting collaboration between Prudential Financial and Ashoka, celebrating and supporting young changemakers tackling the societal and financial challenges of a changing world! They are looking for Changemakers aged 14-18 in the United States and Puerto Rico who are tackling financial and societal challenges.
Prudential Emerging Visionaries is a national recognition program that rewards young people for their innovative solutions to financial and societal challenges in their communities. An emerging visionary is a changemaker – a young person with a bold vision of impact and a plan to make it happen.
Emerging Visionaries is the evolution of the Prudential Spirit of Community Awards, a long-running program that has honored more than 150,000 of these young people over a 26-year history. Emerging Visionaries builds on a tradition of community service, with a new focus on financial and societal challenges.
Advantages
ALL APPLICANTS will receive:
Peer feedback through the online Challenge platform, including the ability to view, review and connect with other Prudential Emerging Visionaries candidates.
Access on-demand training to support you on your journey of change.
A digital certificate of participation.
The chance to be selected for one of two (2) Early Entry Prizes ($1,000 each) if your application is submitted by September 29, 2022.
The winners will receive:
A cash scholarship of up to $15,000, awarded as follows:

25 winners will receive $5,000 each — 20 of these winners will be selected in the Societal Solutions category and 5 winners in the Financial Solutions category.
The 5 winners of the Financial Solutions category will be invited to participate in a pitch-off during the Prudential Emerging Visionaries Awards Summit at the Prudential headquarters. From there, 1 Financial Solutions grand prize winner will receive an additional $10,000 prize, for a total of $15,000.
1 winner in either category will also receive the Prudential Employees Choice Award of an additional $5,000, which will be awarded at the Prudential Emerging Visionaries Awards Summit at Prudential Headquarters. Note: The Financial Solutions Grand Prize winner is not eligible to win the Prudential Employees' Choice Award.

The 25 winners will receive an all-expenses-paid trip to Prudential's corporate headquarters in Newark, New Jersey, April 22-25, 2023, with a parent or guardian for the Prudential Emerging Visionaries Awards Summit. It will be an engaging experience where attendees will benefit from coaching, skills development and an opportunity to meet senior Prudential leaders to help take their solution to the next level.
*Please note that if circumstances necessitate the cancellation of the in-person event (as determined by Prudential in its sole discretion), a virtual ceremony will take place and no travel will be provided.
Eligibility
Participants must be between the ages of 14 and 18 at the time of application and under the age of 18 at the end of the registration period (November 3, 2022). Groups and partners are not eligible.
Entrants must be legal residents of the United States or Puerto Rico.
Participants must have started their project no later than June 1, 2022.
Winners must bring a companion to the in-person event April 22-25, 2023.
Only one application per person.
Applications must be submitted in English.
Prudential Emerging Visionaries and National Prudential Community Mindset Laureates and State Laureates are NOT eligible to apply.
Employees and their children and grandchildren of Prudential, Ashoka, Financial Health Network, or its affiliates and participating advertising and promotional agencies are NOT eligible to apply.
Application
Those who apply by September 29, 2022 (11:59 p.m. ET) will be automatically considered for early entry.All Early Bird entrants will have the chance to get feedback on their entry before the final entry deadline, and two entrants from this group will be selected to each receive a $1,000 prize!
For more information, visit Ashoka's Agents of Change.